Wenniger Cottage Gallery & Shop
The site is under construction, but you can still contact me.
As a collagraph print maker my imagery is narrative; I tell my stories.
Each moment I treasure is memorialized in a one of a kind Collagraph.
Each collagraph print is uniquely colored. It becomes a separate exclusive monoprint oil painting. A collagraph is a collage of materials of various textures glued onto a printing base (plate), then oil painted and transfered to rag paper by means of an intaglio press.
Current Series

Aprons With Attitude
At Wenniger Cottage Gallery

, we push boundaries in what excellent printmaking can look like.
Watch as Mary Ann demonstrates her printmaking process .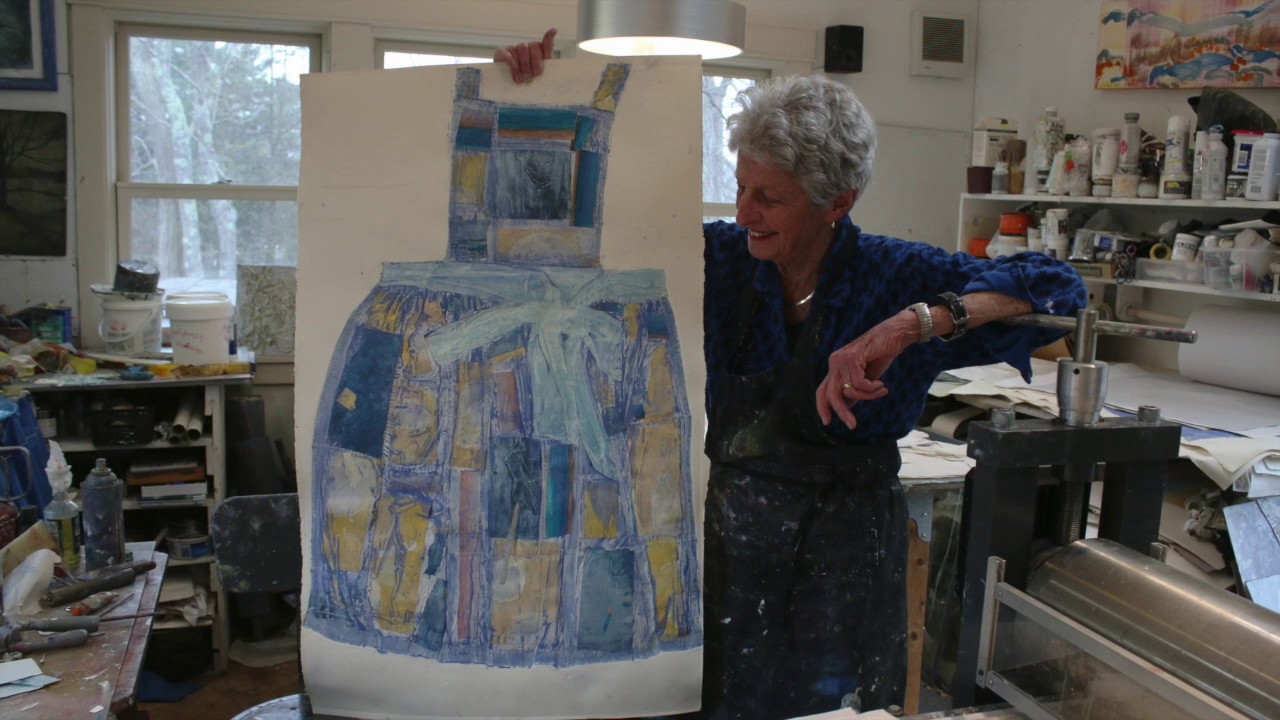 " I let my intuition, the all encompassing inner voice guide my work."
Lighthouses are known through the years as BEACONS of HOPE to the Ancient sea men and now to us. Oceans are great bodies of water in which I am fascinated with the waves lapping the shores. The harbors of the north shore are enchanting in all seasons.
Series of people at work and play. Technology prompted me to explore the simplicity of people working with their hands; boat builders, sewers, cooks, grocers.
The clothesline is a recurring theme in Wenniger collagraphs, recalling nostalgic ideas of family activities and chores, who did what and when and was it fun or a burden. Since I was a teenager and took down clothes, I've loved the freshness and energy of clothes on the line.
Expressive flowers. I use real flowers that have been dried, most often under a rug, and these are expressive works; sometimes with birds and sometimes with vases. Each seasons flowers convey a different mood.
All season landscapes. These are my impressions as I have lived through seasons here in New England.; Summer beaches and flower gardens, Fall walking through the woods using real bark to make trees on my plates, Winter icy branches and stunning sunsets, and Spring grasses and flowers full of light and color. Sometimes as recently as today I would pick some buds or tiny blossoms and add them to a plate.
If you're interested in hearing about our special offers, overstock, and outstanding art, let us know.